Easy to get to!
Enjoy your vacation without your own car and contribute to climate protection. You can reach us easily by public transport and get around quickly by bus, train or bicycle. Our tip: use the UlmCard and benefit from the free use of all public transport within the city boundaries of Ulm and Neu-Ulm (DING)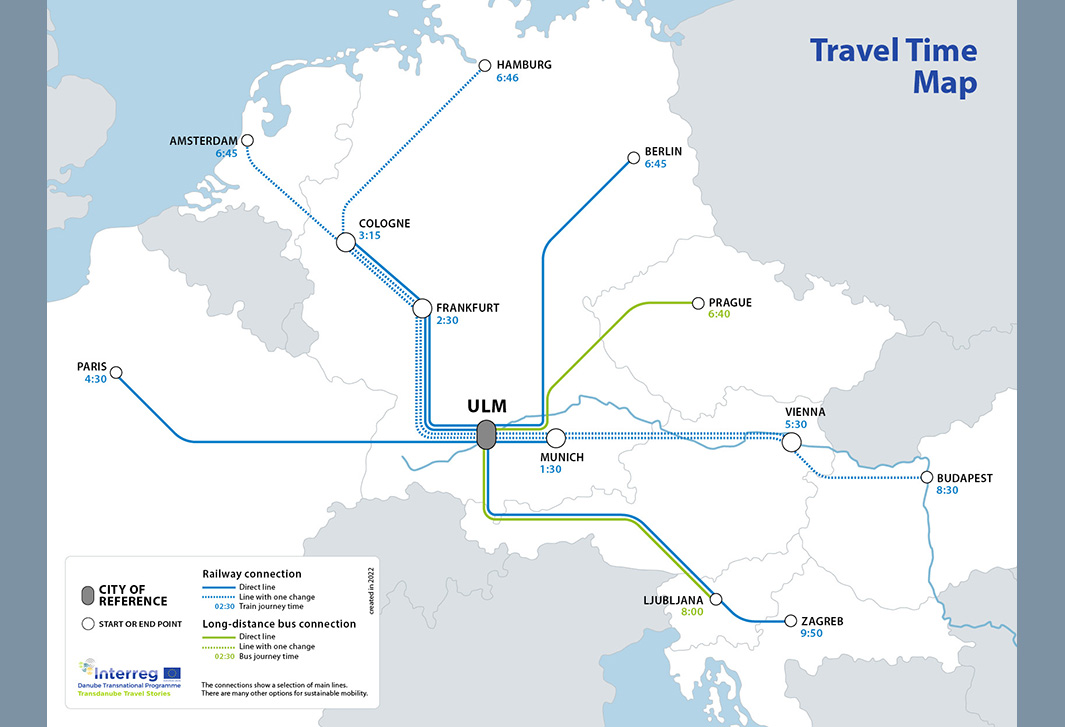 Arrival by car/bus
Ulm/Neu-Ulm is easy to reach by road. The Danube twin-towns are easily accessible from the A8 (Stuttgart–Munich) and A7 (Würzburg–Füssen) motorways.
Various federal and state roads will then take you to the centre, the most important of which are the B10, B19, B28, B30 and B311.

Arrival by train
As a large city, Ulm is conveniently linked to the rail network. Whether you arrive by ICE, IC/EC or local train, travelling to the Danube twin-cities is always easy.
Many regional trains also stop here, giving you direct access from Lake Constance, the Allgäu, the Swabian Alb or from Bavarian Swabia to the main station in Ulm or to the new station in Neu-Ulm.

Low Emission zones in Ulm and Neu-Ulm
The low emission zones in Ulm and Neu-Ulm have been installed in order to reduce the particulate matter emission and therefore better the air quality in Ulm and Neu-Ulm. Clean air is not only important for the inhabitants of both cities, but also to the maintenance of the historic structure, which is one of the main reasons of tourist to come an visit Ulm/Neu-Ulm.
Please notice: for driving into the city centre of Ulm you need a green environmental sticker, in Neu-Ulm you need either a yellow or green one.
#ulmentdecken
|
#ulm
|
#neuulm